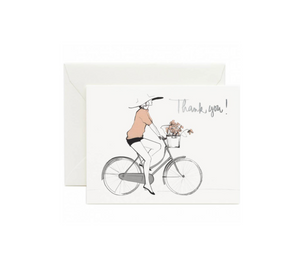 To say thank you, quite simply ...

Garance Doré, who started her career as an illustrator for the press, has become the essential French fashion blogger.
The Rifle Paper Co stationery is a quality stationery, made in the USA. The high quality of the printing paper, from recycling, enhances the colors. The nuances of colors are harmonious. The Rifle Paper Co stationery makes you want to write and tell those you love that you think of them...
Design RIFLE PAPER CO
Made in the USA.
Double card with matching envelope.
Individual packaging (transparent pouch).
Off-white support / matte print
Metallic silver touch
Dimensions: 14.5 cm x 11 cm