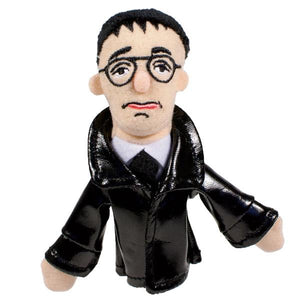 If illusion leaves you weary and wary, you need this radical Bertolt Brecht Magnetic Personality. A magnet on your factory locker. A puppet on your finger when you present The Threepenny Opera - without emotional manipulation of the audience, of course. Not for use with cheap propaganda!
Size: 4 inches tall
Finger Puppet and Magnet
The Unemployed Philosophers Guild's Magnet Personalities -- finger puppets in the likenesses of some of the world's greatest thinkers, artists, writers, and political figures. Now you can have inspiration at the tip of your fingers or the front of your fridge.