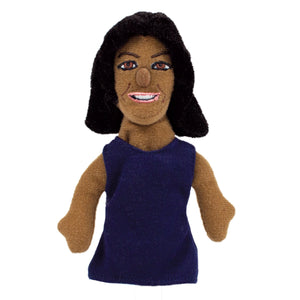 Here's the 
Michelle Obama Magnetic Personality!
 Now the former First Lady and best-selling author can keep you company in the kitchen, on your bike, or at your desk (where you're working on your own autobiography).
Size: 4 inches tall
Finger Puppet and Magnet
The Unemployed Philosophers Guild's Magnet Personalities -- finger puppets in the likenesses of some of the world's greatest thinkers, artists, writers, and political figures. Now you can have inspiration at the tip of your fingers or the front of your fridge.