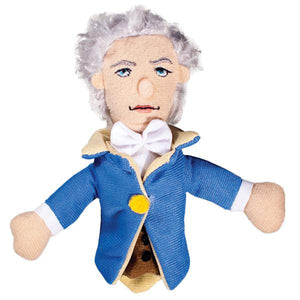 Alexander Hamilton's was the kind of rags-to-riches story that made America famous! The grandson of a Scottish aristocrat! Orphaned as a child! Adopted! Adopted again! Sent to the colonies! Fought to free them! Married the daughter of a rich and wealthy landowner! His was the kind of life that lent itself to exclamation points and hyperbole. Smart yet indiscrete, unfaithful (to his wife) yet faithful (to Federalism), he was one of the country's visionaries who set the course for our democratic, elitist, capitalist, egalitarian mosh pit.
Relive the glory years with our Alexander Hamilton Magnetic Personality. It's a puppet on your finger and a magnet on your fridge.
Size: 4 inches tall
Finger Puppet and Magnet
The Unemployed Philosophers Guild's Magnet Personalities -- finger puppets in the likenesses of some of the world's greatest thinkers, artists, writers, and political figures. Now you can have inspiration at the tip of your fingers or the front of your fridge.